Welcome to Al Vecchio Abete
Let me introduce myself. My name is Giulia and I am in love with the amazing Valle di Susa. Our B&B is located in Oulx, an authentic small town in the Upper Valley and an excellent start point to discover all the evocative and historic villages in Valle di Susa, as well as its mountains, trails, muletracks and shelters.
In our B&B we will welcome you and invite you to discover this precious corner of Piedmont. From our windows you can admire the peaks of Cotolivier and Fraiteve, which frame the rich landscape of the Valley, with its unspoiled nature.
The start point to discover the marvellous Valle di Susa
We are pleased to meet new people and to share with them the beauty of our land. This is how Al Vecchio Abete was born. Our B&B is named after the old fir tree (Vecchio abete) that my grandfather planted in the garden and still stands fiercly today. Our house is the "family home", which dates back to the times of the construction of the railway and the tunnels in the Valley. It is no coincidence that the fathers of our family were among the engineers and builders who worked on these infrastructures in the nineteenth century.
You can start from Oulx to discover the mountain hamlets, such as Salbertrand, Exilles, Eclause, Seu, Amazas, Pierremenaud, Soubras, Desertes, Savoulx and Puy, but also to enjoy the small towns of Bardonecchia, Sauze d'Oulx and Cesana, with their ski slopes in winter and their trails in the summer. But there's more! Nature, woods, pastures and the mountains above characterize the landscape that you can admire and breath in our Valle di Susa.
Our valley is a unique natural scenario. Walking along well-traced paths, ancient muletracks and wood trails, you can discover its nature, its alpine lakes and its mountains. Landscapes composed of meadows, pastures, woods and peaks of various altitudes give Valle di Susa a distinctive feature: an incredible wealth of animals and plants, from birds like the golden eagle, queen of these skies, to chamois, deers and ibex, from the timid marmots, whose whistles you can hear in the distance, to the wolf, the king of the woods.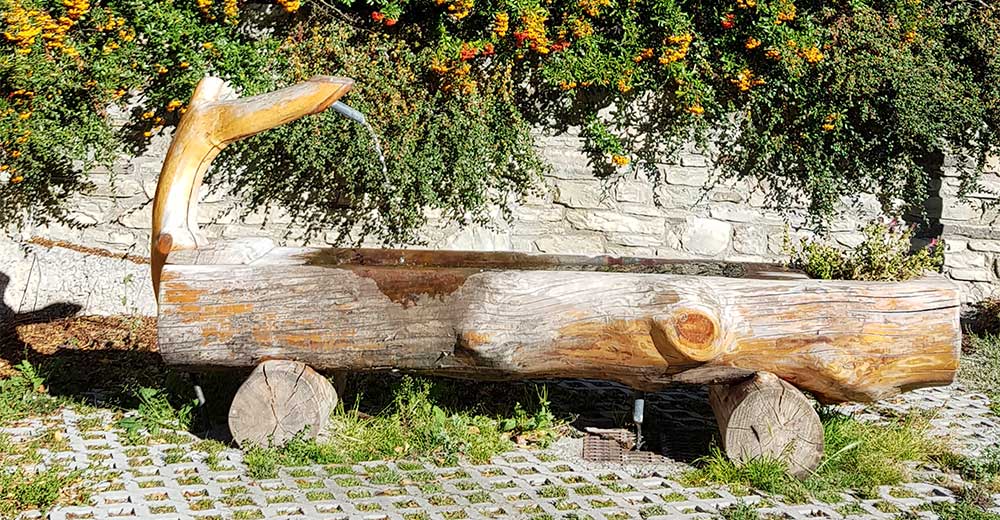 Enjoy quiet, intimacy and authenticity during your stay
Al Vecchio Abete is a brand new B&B. Here you will find all the comfort and intimacy you need during your vacation. There are two large studio apartments, with perfectly equipped kitchen, so that you can enjoy the real soul of our home and tradition. We want you to rest cosily, but we also care about sustainability.
Ottimo alloggio molto comodo e confortevole in ottima posizione
Aprtament comode, net i acollidor. Es petit pero te tot el necesari. El llit es molt comode, terrassa molt xula. La cuina te els estris escencials.
Perfect place to stay in the mountains!
We had a beautiful stay, the apartment is lovely, really clean and comfortable. Excellent location. The view is really pretty too. Loved the little town and super recommend the bus drive up to Sauze d'Oulx.
Hi! Awesome designed and fully equipped apartment even for long stay. Has a balcony with scenic view to mountains beyond and garden below. Julia and Christina are very kind-hearted and caring hostesses who are happy to help with everything.Oulx is a lovely little town with lots of places for quiet walks. Surrounding by woodlands with awesome air.It's full of very friendly inhabitants. Note for yourself the possibility of an off-season (low-season) stay, when this place resembles a quiet shelter protected by mountains.p.s.Realy close to a train and a bus. (close to 5 min) but it's not desturbed your repose. Train to Turin every hour and just hour on a road. So it pretty good for periodical visit of Turin. Also exist a regular buses to Sauze d'Oulx and Sestriere are fairly frequent.
I had the perfect stay in Oulx, thanks to Giulia which is an amazing host. She went pick me up at the station as I had a big suitcase, even with the apartment being a 3 minute walk from the station. She also left traditional cookies for me when I arrived, and was always available when I had questions. The apartment is clean and has everything you need for long stays, especially for working remotely, as it is quiet, with good internet, and gorgeous view to the mountains. It Is the perfect place to relax and enjoy the nature. It was an unforgettable positive experience and I truly recommend Giulia's place.
We loved our stay. The apartment was decorated perfectly for feeling like a ski vacation in the Alps. The space was very clean and extremely easy to get to from the Oulx train station (a legitimate 5 minute walk).
A very clean and comfort apartment near city center.
The apartment is located conveniently closed to the train station and to the centre of the village, both reachable within five minutes walk. It is a studio flat with a large double bed, a small balcony and a large bathroom, fully renewed with shower. Comfortable and spacious for two, there is also a sofa bed for extra guests.
I would highly recommend this property to anyone staying in oulx.The property is very close to local cafe's, bars, restaurants etc and only a two min walk to the train station from which there are regular buses to the ski area of sauze d'Oulx.10/10